Agenda
Texas Rose Festival
Tyler, Texas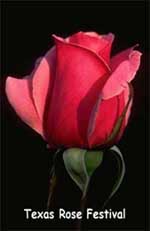 Price $75
Includes:
Admissions, lunch,
snacks, and tea.
The van will leave from the greenhouse parking lot at 7:00 a.m. on October 12. We will have coffee and warm muffins ready to take on the bus. Water and soft drinks will be available in coolers on the van all day. Our tour is limited to 20 people, so make your reservations early.

We will arrive for a tour at the Yellow Rose Nursery at approximately 10:00. The Yellow Rose Nursery is owned by Maude Key and her daughter, Floy. They have been a premier rose supplier for major markets for over 70 years. Their specialty is yellow roses. You will learn how the roses are planted, cultivated, and prepared for shipping.
After the tour, we will have lunch at Sue and Cathy's Little Tearoom in Tyler. Sue and Cathy have an excellent tearoom. People have been known to drive from Dallas just to have lunch there. They always have fresh rose arrangements on each table and will make you feel so welcome. The homemade rolls and rose jelly are their specialties.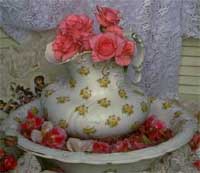 After lunch, we will drive to the Tyler Municipal Rose Garden for the main event. This 14-acre garden displays over 400 varieties of roses blooming from over 30,000 bushes. You won't believe it! After the exhibition we will enjoy the Queen's tea and come home. We expect to arrive by 7:00 p.m.